This post is about wizards acting like they work for the game when they really don't, and they offer other wizards free things in return of your password and username. Both Wizard101 US and UK have posted that they will never ask for your password, they already have it. When you send them an email, they always say never include your password when sending them an email. If you see someone on Facebook or Twitter acting like they are Kingsisle asking everyone for their passwords make sure to warn everyone and then report/block them. Down below are Wizard101 UK's and US response to wizards acting like Kingsisle. Just a heads up, NEVER give out your password to anyone.
Wizard101 UK:
Just a reminder and to further drive home the point.
Wizard101 staff, Wizard101 developers and Wizard101 publishers will NEVER ask for your log in details of email and password.
We already have that information available, we do not need it to pass gifts and Crowns on the game. Anyone else claiming to offer these are impostors and looking to part you from your account.
Any official prizes and gifts will come in the form of codes to redeem. And from other users only your account name is needed to gift. No email or password should ever be shared.
There is our own official Facebook pages found linked here. Anything or anyone else claiming to be someone affiliated is 99% chance going to be impostors as well.
In game GMs currently have all Marleybone ("MB") gear.
If it sounds too good to be true, it is. Don't risk losing your account. You never are going to be asked for your log in details from us.
Wizard101 USA:
Headmaster Ambrose (Developer of the game)
Hey Gang, I wanted to drop you a quick note to warn you of a scam that has been going on recently. People have been going onto Facebook and and into the game pretending to be me -- or another member of the KI staff -- and offering to give out "free items" or "crowns" in exchange for providing them your user account and password information.
We have said this before, but appears to be repeating:
Kingsisle Employees will NEVER ask you for your account information or password. NEVER. (Why would we? We already have your account information!)
If someone is asking for your account information, that individual is likely trying to trick you and steal your account. DO NOT GIVE IT TO THEM!
Kingsisle staff members in the game have a badge that says, "Kingsisle Support" -- If someone is claiming to work for Kingsisle and cannot or will not show you this badge, report them immediately.
Some players have asked if I maintain a Facebook fan profile. I do, in fact, and I post there periodically. For those of you who are interested, it can be found here:
ANY other profile page claiming to be me is also a fake/impostor, likely created to steal the accounts (and crowns) from unsuspecting players. My ONLY official fan page is listed above.
Thank you for your time and attention, for enjoying our game.
Professor Greyrose adds:
Thank you! That's a lesson we try to teach our players every day! Giving away your password is the same as giving away your wizards forever.
Just a followup, here's a picture of the Kingsisle Support badge: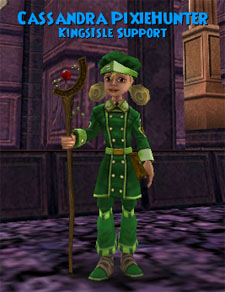 And the official Wizard101 Facebook page is at
- Note: there are also official pages, such as Wizard101 UK.
All of these links can also be found (if you're ever questioning a site) at
Both of the links of the information posted above can be found here: